Every Bump is a Lesson in the University of Hard Knocks [Book Review]
Posted December 23, 2019
-
Updated October 4, 2022
Last Updated on October 4, 2022 by candidcashflow
I've never done a book review, and maybe I'll never do one again, but if ever a book was worthy, this is the one!
The boring backstory goes like this: 
For the Christmas of 2010, I received a Kindle e-reader as a gift. One of the first things I did was figure out how to find free books, and I began building my library. In the Classics section, I ran across The University of Hard Knocks by Ralph Parlette sitting there with 5 shiny review stars, so I downloaded it.
I'm not a voracious reader by any means, so if a book can keep my attention, it's a winner! I didn't expect a lot when I opened this book the first time on my Kindle, but it had me in the first few lines.
Every bump is a lesson on the highway of life. The University of Hard Knocks is a life-changer and should be required reading for humanity.
Grab The University of Hard Knocks Workbook and enjoy the full text of Ralph Parlette's profound lecture accompanied by interactive workouts to help you apply his concepts to your life.
Available from Amazon for only 99 cents on Kindle or $7.99 in paperback. Add this classic to your library and begin your transformation today!
Naturally, I set out to find out more about Ralph Parlette only to discover that a few old books are all that remain. I found one image online, and it was a collage with many of his contemporaries.
He is more handsome than I expected. Ralph was born in 1870 and grew up in rural Ohio as the son of a preacher. He was part of the Chautauqua Movement that swept through the States in the late 19th and early 20th centuries.
The Chautauqua Movement was an adult education movement that moved through rural communities and included speakers, teachers, entertainers, preachers, musicians, and specialists from all kinds of backgrounds.
I imagine they were not unlike the many conferences and conventions we have today. It seems that Mr. Parlette was pretty much a staple in the chautauquas and lyceums through the prime of their tenures. The University of Hard Knocks is actually an adaptation of one of his lectures.
I feel that I need to offer a disclaimer for any snowflakes out there who might get triggered because Mr. Parlette does mention Jesus, Moses, Paul, and God in his book as examples and references. I would call it anything but preachy, and when you consider his upbringing, it makes perfect sense for him to reference the Bible in his book about the school that completes our education.
Now, we can dig in! The University of Hard Knocks is in the public domain and is available for absolutely free on Amazon as well as other online venues.
Most of the free versions available through various free platforms and booksellers online are adapted from the original printed book, so they are crudely formatted. The paperback copy I bought for this review has page numbers on the inside of the page!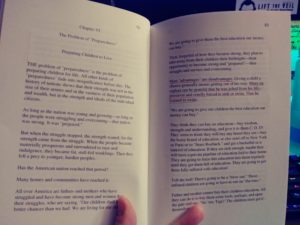 Thus, I have formatted the eBook and made it available to you for free.
I even made a music playlist!
I've also created some items such as a couple t-shirts and workbook that are available through RedBubble and Amazon at nearly cost…meaning I'm not reviewing this book to make tons of money. I'm reviewing it because it changed my life and mindset.
See this collection on RedBubble.


University of Hard Knocks collection on RedBubble.
Every Bump is a Lesson
The general premise of The University of Hard Knocks: The School That Completes Our Education is that failure is our greatest teacher and that we learn from our life experience. The quality and speed at which we learn are completely up to us. At the front of the book, Mr. Parlette cites a quote from Shakespeare's As You Like It Act II Scene I:
Sweet are the uses of adversity;
Which, like the toad, ugly and venomous,
Wears yet a precious jewel in his head;
And thus our life, exempt from public haunt,
Finds tongues in trees, books in running brooks,
Sermons in stones, and good in everything.
Every bump is a lesson.
In the University of Hard Knocks, there are two colleges:
The College of Needless Knocks – the bumps that we bump into
The College of Needful Knocks – the bumps that bump into us
The College of Needless Knocks
Mr. Parlette defines needless knocks as the bumps that we bump into intentionally because we think we are smart enough to handle it.
He uses an analogy from his childhood when he was a very small boy. The coffee pot fascinated him and was within his reach at the dinner table. He needed to hold it despite his mother's warning and learned a lesson from his first memorable bump in The College of Needless Knocks.
Each time we stray from the right path in life, we begin spiraling downward. 
Ralph says, "Anything that goes downward will run itself. Anything that goes upward has to be pushed."
When we move on the path of least resistance, we are going downward in life. Within this downward momentum is where we experience bumps in The College of Needless Knocks. Had we not been doing the wrong thing in the first place, we would not have been bumped!
The College of Needful Knocks
Sometimes we experience bumps that we have no control over.
These are the life lessons we cannot avoid. You know, the heartbreaks, heartaches, wrecked plans, and times when you've just lost all hope that things could be better?
Those are bumps in The College of Needful Knocks.
Every human has some, for we all go through adversity. Ralph says, "But I am discovering that life only gets good after we have been killed a few times. Each death is a larger birth."
These bumps are lessons that point up to a higher path than the one we are on. When we learn our lessons in The College of Needful Knocks, we become better versions of ourselves. We become more equipped to serve.
Have you ever heard someone refer to someone else as "green"? I wouldn't say it's necessarily a positive thing. Basically, they are saying a person is young, dumb, and inexperienced. Ralph says, "Only green things grow."
Indeed, The College of Needful Knocks tries us in the fire of experience and raises our value as humans both to ourselves and those around us.
The Barrel of Life
Mr. Parlette uses some stellar analogies in this book, and I find it surprising how relevant they still are 104+ years after The University of Hard Knocks was first published in 1914. 
One of those analogies is life compared to a barrel of apples.
The bigger, fatter, better apples shake to the top while the smaller ones line the bottom of the barrel.
The same is true for people. The great ones shake up to the top, while the smaller ones shake down into oblivion.
In one of the truer points in the book, Mr. Parlette points out that the problem is not the barrel (world), but the apples (people).
Fix the people, fix the world.
Learning From Life Experience
In The University of Hard Knocks, we learn that our greatest teacher is life itself. The hard knocks we experience along our journey are the school that completes our education so we can grow great and be of service to others.
Maybe you're asking where getting paid falls into all of this positive life lessony greatness?
It's the natural by-product.
Mr. Parlette tells us not only how to become great, but how not to. He warns of trying to prepare our children too much or so much that they miss the needful knocks.
Every bump is a lesson.
If you protect your kids from all the bumps, they will learn nothing. We also understand that to continue to be great, one never stops learning.
We don't retire. We just continue going up or "going South" as Ralph puts it, as he analogizes success with the mighty Mississippi River.
We never really complete our education in The University of Hard Knocks. We merely grow or refuse to grow.
Which one will you choose?
Links of Interest
University of Hard Knocks Playlist
This article originally appeared on August 15, 2018, when the corresponding podcast episode was released. It's been added here because it's been updated and is still relevant. Enjoy!